Congratulations! You're now on the waitlist, please check your inbox for our confirmation email!
Grimm's - Set of Natural Stacking Bowls
This beautifully made set of stacking bowls foster creative play and lend themselves to endless learning opportunities.
Perfect for building, imaginary play, stacking and sorting activities.
Materials:

made from Alder

Size: 9cm in diameter and 21cm when stacked
Suitable for ages 6m+
Shipping Within Australia
Shipping prices are a flat rate of $10.95 this does not include bulky items. 
Express shipping is calculated at check out for orders up to 10kg. We cannot guarantee express shipping of items sent directly from our distributors. We will contact you if express shipping is unavailable on your order.

Purchases over $280 (after codes and reward vouchers used) will receive free standard postage within Australia, this does not include bulky items. 
If we anticipate any delays with your order The Creative Toy Shop will contact you immediately and likewise, if your order is urgent please let us know.
LOCAL PICK UP ORDERS
LOCAL PICK UP should only be chosen by local customers to the Coffs Harbour region who will be picking up their orders. 
Do NOT choose LOCAL PICK UP when placing 2 orders or for an ADDTOLAYBY order or any other orders. We will cancel & refund these orders as LOCAL PICK UP cannot be combined with other shipping orders. 
International Shipping
We now offer worldwide shipping!
Unfortunately, we are not allowed to ship Grimm's, Grapat and Ostheimer outside of Australia.
Certain countries are currently limited by weight to 2kg, we are working with our partner to increase this.
Shipping rates are calculated during check out, destination duties and taxes are the responsibility of the receiver. If these are not paid by the customer, your order will not be delivered by the shipping company. 
When an international order is returned to the sender, it can take up to 3 months for the order to arrive back to us. We will issue the refund on the product only once the order arrives back to our warehouse.
International Shipping Times
We are based in regional NSW which means the estimated shipping times are not accurate from what you see at checkout. 
DHL Express: We fulfill and dispatch your order within 24 hours of receipt.
A 3rd party carrier picks up on behalf of DHL express Mon, Wed and Friday and it is taken to Sydney International airport. This can take an additional 3 - 5 business days on top of the delivery times stated at checkout.
Your order will arrive within 7 business days once it arrives in Sydney. 
Please be aware of this when ordering from us.
Australia Post: We fulfill and dispatch your order within 24 hours of receipt. These orders are picked up daily. The times shown at checkout for this shipping option is accurate. 
International Subscription Box Shipping
Our international subscription boxes are only available for shipping to the following countries: Indonesia, Malaysia, New Zealand, Singapore, United Arab Emirates & United States. The price of shipping is included in the product cost.
Shop and Save
We wanted to find a way to say "thanks" for shopping with us and have decided to launch our own rewards program. 
Earn points every time your shop, when you register and following us on social media.
How it works
Create a store account to start earning points!
Earn 10 points just by signing up. 
You will earn 1 point for every $1 you spend
Redeem 90 points to receive a $5AUD coupon
Redeem 360 points to receive a $20AUD coupon
Redeem 900 points to receive a $50AUD coupon
Redeem
 1800 points to receive a $100AUD coupon
Check your account
We have a new rewards system as of November 2023.
You now access your points and redeem rewards via our online launcher which is located at the bottom left corner of our website.
Log in via this launcher and you will see your points and areas to redeem vouchers. 

Terms and Conditions 
Reward Points are not transferable.
Reward Points cannot be redeemed for cash.
Reward Points can only be redeemed off the product purchase price. This excludes taxes and shipping.
Reward Points from two separate accounts cannot be merged.

Rewards Points can be earned on subscription orders but can't be redeemed on these orders. 

Reward Codes expire after 1 year.

You will not receive an email advising this reward code is about to expire. Please be aware when you redeem your rewards for a reward voucher that they have a 1 year expiry.

We are unable to reinstate these points if your discount code has expired after 1 year. 

You can't use a reward voucher code with Last Chance items or any other automatic discount code like Free Shipping. The discount code will take precedence as you can only have 1 code at checkout and our Last Chance items are deemed a storewide code due to the limitations of our software. 
You cannot use more than one code at checkout. If there is storewide promotion, then the code can't be used. 
Customer Reviews
Write a Review
Ask a Question
Filter Reviews:
bowls
play
hands
playgroup room
school library
awhile
edge
hazard
mouth
finish
31/01/2021
Elizabeth M.

Australia
05/08/2020
Ann A.

Australia
I recommend this product
Gorgeous product
We absolutely love our natural stacking bowls. They feel and smell gorgeous, and my little boy instantly took to it by rolling them on their edge. Weve stacked, used them in loose part play and are terrific for sorting. A highly versatile piece to add to the collection.
01/07/2020
Victoria B.

Australia
Love at first sight
They are so cute and have endless ways for the kids to use them. Think I need another set!
15/06/2020
Betty C.

Australia
I recommend this product
Looks amazing and very versatile
A great investment for open-ended play and the natural colours are subtle and calming. The diameter of the largest bowl is 11.3cm.
14/05/2020
Emma W.

Australia
I recommend this product
Very sweet toy
I bought this for my 6 month old. At the moment, only really she is really just picking them up and putting them in her mouth. I think these will be more useful in a couple of months. Personally I like that they are small enough for small hands, but large enough to not be a chocking hazard. They are very cute. I like the natural finish and being able to see the grain of the wood. Good for open-ended play.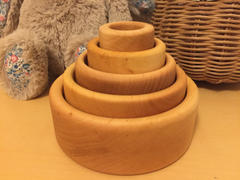 Excellent fine motor development!
My 15month old is a very active kid, so getting toys (tools) that holds his attention while practising fine motor skills had been a challenge. These cups are perfect for him! He loves to stack them in a tower, and nest them together. He has also worked out that they can hide smaller items by "sandwiching" two together. A much loved toy.
So many uses
My toddler and primary schooler love using these bowls, especially when setting up small world play.
So many uses
My son and i love these bowls. We stack, roll and nest them, use them as building bases, use them with play food and drink. The possibilities are endless. Theyre smaller than I anticipated, but still get a lot of love.
Stunning set
The bowls are absolutely beautiful. My son adores filling them with dried chickpeas & rice during sensory play.