Congratulations! You're now on the waitlist, please check your inbox for our confirmation email!
CollectA Animal Subscription Box
This product is for Australia only.
The Creative Toy Shop is super excited to offer this fabulous concept to our store, the CollectA Animals Subscription Boxes! 
These boxes are delivered to your doorstep each month and build for your child a wonderful collection of animals and accessories for imaginative and creative play.
Each month a new set of animals will arrive at your door and inspire hours of play. Every few months we change the theme of the animals, we have had Farm, Sea, Australian and Dinosaurs so far! What will be next?
This CollectA Box will include: 
3-5 animals or items per box
If you own items from this range, please leave a note at checkout and we will endeavour not to duplicate
There are only a limited number of boxes per month.
Each box is $29.90 and includes FREE shipping.
NB:- the images shown are only an example of what you could receive inside your box. Each month the products will change. 
This option is a rolling subscription. Your nominated card will be charged on the 1st of each month after the initial month, ready for shipment on the 5th.
The cut off for each month's subscription is the 4th. Any order placed after that date will become part of the next month's shipment.
Shipping Within Australia
Shipping prices are a flat rate of $10.95 this does not include bulky items. 
Express shipping is calculated at check out for orders up to 10kg. We cannot guarantee express shipping of items sent directly from our distributors We will contact you if express shipping is unavailable on your order.

Purchases over $250 will receive free standard postage within Australia, this does not include bulky items. 
If we anticipate any delays with your order The Creative Toy Shop will contact you immediately and likewise, if your order is urgent please let us know.
International Shipping
We now offer worldwide shipping! Certain countries are currently limited by weight to 2kg, we are working with our partner to increase this. Rates are calculated during check out, destination duties and taxes are the responsibility of the receiver.
Unfortunately, we do not ship Grimm's, Grapat and Ostheimer outside of Australia.
International Subscription Box Shipping
Our international subscription boxes are only available for shipping to the following countries: Indonesia, Malaysia, New Zealand, Singapore, United Arab Emirates & United States. The price of shipping is included in the product cost.
Shop and Save
We wanted to find a way to say "thanks" for shopping with us and have decided to launch our own rewards program. 
Earn points every time your shop, when you register and following us on social media.
How it works
Create a store account to start earning points!
You will earn 1 point for every $1 you spend
Redeem 120 points to receive a $5AUD coupon
Redeem 400 points to receive a $20AUD coupon
Redeem 900 points to receive a $50AUD coupon

Redeem 1500 points to receive a $100AUD coupon
Check your account
Check your points and redeem rewards here.
Terms and Conditions 
Reward Points are not transferable.
Reward Points cannot be redeemed for cash.
Reward Points can only be redeemed off the product purchase price. This excludes taxes and shipping.
Reward Points from two separate accounts cannot be merged.


Customer Reviews
Write a Review
Ask a Question
Filter Reviews:
animals
quality
collection
subscription
surprise
daughter
kids
delivery
value
play
I recommend this product
amazing!
love the excitement these bring every month. has been a fantastic way to build our collection
28/04/2022
Marcella S.

Australia
I recommend this product
Great collections of animals
We love our monthly subscription box, great way to build our animal collections and excellent way for our 2yo to identify so many different type of animals.
28/04/2022
Bronwyn H.

Australia
I recommend this product
Love the animal subscription
We have a monthly subscription for Collect A animals. I love receiving new little animals each months for my toddler to explore. There has been some hiccups with postage times, however customer service has been amazing ensuring this was dealt with.
22/04/2022
Pujun Z.

Australia
I recommend this product
Collect a
Good quality, the toys can last really long
08/04/2022
Megan H.

Australia
I recommend this product
Love
We love the excitement of receiving our CollectA Subscription each month. We always receive a great range of animals.
07/04/2022
Natasha W.

Australia
03/04/2022
Naomi B.

Australia
I recommend this product
Lovely staff and fantastic customer services
My children had already owned a couple of animal figures from CollectA Animal. So I informed the shop which animals we owned when I subscribed to this. They kindly replied, saying they note that in my file not to replicate. Fantastic customer service and the quality of the products are excellent. I highly recommend this subscription.
20/03/2022
Laura R.

Australia
I recommend this product
Amazing idea
What an incredible idea this Collect-A subscription is! I'm so glad I've signed up and couldn't be happier with our first delivery. It was super exciting when it arrived not knowing which animals would be inside, and my daughter and I both equally loved unwrapping the parcel and seeing what was inside. Can't wait for next month!
11/03/2022
Kamina N.

Australia
I recommend this product
The best surprise every month
Opening a package every month of surprise animals was such fun for the whole family! Highly recommend.
09/03/2022
Amy C.

Australia
I recommend this product
CollectA subscription
I've loved this subscription. I'm Currently passing it on to my nephew as a gift for his 1st birthday. The animals are completely realistic and amazing quality.
08/03/2022
Iris B.

Australia
I recommend this product
Collect A Animals
My granddaughter was delighted with her new Australian animals
07/03/2022
Juliet W.

Australia
I recommend this product
Great subscription
My kids love this subscription - we get excited for every delivery and they love the new animals they receive each time.
02/03/2022
Megan H.

Australia
I recommend this product
Great idea
I decided to purchase a CollectA subscription because my son (2yo) loves animals and has heaps of Schleich I wanted to give another brand a go. I am so glad I did, the first subscription was bird themed and at first I thought my son wouldn't be interested as he hasn't previously shown an interest in birds but it was the best as he now loves pointing out birds and learning about lots of different types. Each month he has such joy when opening the subscription he calls it his "surprise". Would definitely recommend for any animal lover.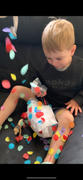 02/03/2022
Rebecca F.

Australia
I recommend this product
LOVE CollectaA subscription box
My two boys love getting a package in the mail each month to see what animals they get. They get used for hide and seek and matched with flash cards, bath time and mud kitchen play. Very durable and fun!
02/03/2022
Georgia A.

Australia
I recommend this product
Love our subscription
Obsessed with all things creative toy shop
02/03/2022
Tash C.

Australia
I recommend this product
Subscription box
Excellent. Super speedy delivery as well! My girls love their mail once a month