Congratulations! You're now on the waitlist, please check your inbox for our confirmation email!
PLAY Subscription Box - Age 6+
This is for Australia only. 
The Creative Toy Shop is super excited to offer a new concept to our store, the PLAY Subscription Box! 
Each box has a retail value of at least $80! 
They have been specially curated and designed for both girls and boys for ages of 6+ years.
This PLAY Subscription Box will include a variety of brands: 
3-4 items per box.
If you own items from our store, please leave a note at checkout and we will endeavour not to duplicate. 
If you wish please also leave a note with child's age and gender.
There are only a limited number of boxes per month.
Each box is $69.95 and includes FREE shipping. 
NB:- the images shown are only an example of what you could receive inside your box. Each month the products will change. 
This option is a rolling subscription your nominated card will be charged on the 10th of each month after the initial month, ready for shipment on the 15th.
The cut off for each months subscription is the 14th. Any order placed after that date will become part of the next months shipment.
You can cancel at any point as there is no minimum term. Simply log into your account and cancel the subscription. 
Changed address?
Please email us at hello@thecreativetoyshop.com.au as we will need to change your address details in our Subscription software. Otherwise, your box will continue to ship to your old address.
Shipping Within Australia
Shipping prices are a flat rate of $10.95 this does not include bulky items. 
Express shipping is calculated at check out for orders up to 10kg. We cannot guarantee express shipping of items sent directly from our distributors. We will contact you if express shipping is unavailable on your order.

Purchases over $280 (after codes and reward vouchers used) will receive free standard postage within Australia, this does not include bulky items. 
If we anticipate any delays with your order The Creative Toy Shop will contact you immediately and likewise, if your order is urgent please let us know.
LOCAL PICK UP ORDERS
LOCAL PICK UP should only be chosen by local customers to the Coffs Harbour region who will be picking up their orders. 
Do NOT choose LOCAL PICK UP when placing 2 orders or for an ADDTOLAYBY order or any other orders. We will cancel & refund these orders as LOCAL PICK UP cannot be combined with other shipping orders. 
International Shipping
We now offer worldwide shipping!
Unfortunately, we are not allowed to ship Grimm's, Grapat and Ostheimer outside of Australia.
Certain countries are currently limited by weight to 2kg, we are working with our partner to increase this.
Shipping rates are calculated during check out, destination duties and taxes are the responsibility of the receiver. If these are not paid by the customer, your order will not be delivered by the shipping company. 
When an international order is returned to the sender, it can take up to 3 months for the order to arrive back to us. We will issue the refund on the product only once the order arrives back to our warehouse.
International Shipping Times
We are based in regional NSW which means the estimated shipping times are not accurate from what you see at checkout. 
DHL Express: We fulfill and dispatch your order within 24 hours of receipt.
A 3rd party carrier picks up on behalf of DHL express Mon, Wed and Friday and it is taken to Sydney International airport. This can take an additional 3 - 5 business days on top of the delivery times stated at checkout.
Your order will arrive within 7 business days once it arrives in Sydney. 
Please be aware of this when ordering from us.
Australia Post: We fulfill and dispatch your order within 24 hours of receipt. These orders are picked up daily. The times shown at checkout for this shipping option is accurate. 
International Subscription Box Shipping
Our international subscription boxes are only available for shipping to the following countries: Indonesia, Malaysia, New Zealand, Singapore, United Arab Emirates & United States. The price of shipping is included in the product cost.
Shop and Save
We wanted to find a way to say "thanks" for shopping with us and have decided to launch our own rewards program. 
Earn points every time your shop, when you register and following us on social media.
How it works
Create a store account to start earning points!
Earn 10 points just by signing up. 
You will earn 1 point for every $1 you spend
Redeem 90 points to receive a $5AUD coupon
Redeem 360 points to receive a $20AUD coupon
Redeem 900 points to receive a $50AUD coupon
Redeem
 1800 points to receive a $100AUD coupon
Check your account
We have a new rewards system as of November 2023.
You now access your points and redeem rewards via our online launcher which is located at the bottom left corner of our website.
Log in via this launcher and you will see your points and areas to redeem vouchers. 

Terms and Conditions 
Reward Points are not transferable.
Reward Points cannot be redeemed for cash.
Reward Points can only be redeemed off the product purchase price. This excludes taxes and shipping.
Reward Points from two separate accounts cannot be merged.

Rewards Points can be earned on subscription orders but can't be redeemed on these orders. 

Reward Codes expire after 1 year.

You will not receive an email advising this reward code is about to expire. Please be aware when you redeem your rewards for a reward voucher that they have a 1 year expiry.

We are unable to reinstate these points if your discount code has expired after 1 year. 

You can't use a reward voucher code with Last Chance items or any other automatic discount code like Free Shipping. The discount code will take precedence as you can only have 1 code at checkout and our Last Chance items are deemed a storewide code due to the limitations of our software. 
You cannot use more than one code at checkout. If there is storewide promotion, then the code can't be used. 
Customer Reviews
100
reviewers would recommend this product
Write a Review
Ask a Question
Filter Reviews:
ability
play subscription box
opportunity
experience
toys
items
play
daughter
19/03/2023
Maria T.

Australia
I recommend this product
Subscription box
I recently purchased PLAY subscription Box' for my daughter, and I have been thoroughly impressed with their quality and ability to keep her engaged for hours on end. These toys have been a fantastic way for her to learn and have fun at the same time.
06/03/2023
Alexandria M.

Australia
I recommend this product
Great
This subscription has been so fun! I'm so sad to have to cancel for now but we will be signing up again in the future
05/03/2023
sky B.

Australia
I recommend this product
CollectA animal subscription box
We have been receiving the box for some time. And are very happy. They are quality products and you get value for money. My child enjoys receiving his box each month.
02/02/2023
Rose S.

Australia
I recommend this product
Lovely surprise each month
My son absolutely loves opening the package whenever it arrives. I was so overwhelmed at where to start our collection of animals. This has totally taken away the stress of making decisions and we now have an extensive collection of animals from all around the world.
02/02/2023
Susan C.

Australia
I recommend this product
Excellent subscription
The pieces come promptly and are nicely packaged. The different animals have been great so far - each box comes with three to five animals depending on the size. It definitely feels like value for money, and it is lovely having a surprise each month while still growing our collection. 10 out of 10 would recommend!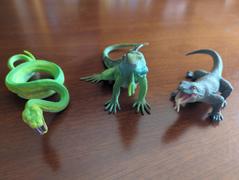 21/01/2023
Alexandria M.

Australia
I recommend this product
This is a great subscription
We have thoroughly enjoyed receiving our CollectA subscription each month and would recommend it to everyone with toddlers and young children. ☺️
18/12/2022
Kayla B.

Australia
I recommend this product
Amazing quality
Service is great and quick delivery
07/11/2022
Luna R.

Australia
I recommend this product
Great way to build animal collection
Such a great way to build the collecta collection and to add animals I wouldn't typically think to buy but my daughter loves playing with.
06/11/2022
Heather C.

Australia
I recommend this product
Excellent value
Convenient way to build a collection of quality animals. Each month is a different theme, and such a wide variety of common and unusual/less common animals/birds/insects etc. Excellent value.
02/11/2022
Elaine E.

Australia
I recommend this product
Good quality collectA animal figurines
Very good quality and real looking animals. My sone love it very much
02/11/2022
Bobbi R.

Australia
I recommend this product
CollectA
We love our CollectA subscription. The children love checking the mail and are always to excited to see what will be inside, so life like as well!
30/10/2022
Brogan

Australia
I recommend this product
CollectA subscription
I signed up to the CollectA subscription 6 months ago and definitely recommend it! My two year old loves receiving a suprise package of animals each month! She loves to line them all up, practice naming the animals or making their sounds, taking them into the sandpit and using them in water/ sensory play. The animals are quite realistic looking and far nicer quality with no holes/seams or glued pieces like you see in cheaper animal figurines. Can't wait to see what animals we will get in next month's subscription!
14/10/2022
Natasha A.

Australia
I recommend this product
Free play naturally
CollectA animal subscription is a purchase that keeps giving It gives something to look forward to every month Solves problem of purchasing at gift stores And quality of the animals is great It facilitates free play and small world play in one
14/09/2022
Candy B.

Australia
I recommend this product
Love this!!
I love this subscription so much. My son and I look up the animals every month on you tube and learn all about them and it's great getting a surprise in the mail every month.
14/09/2022
Jasmine O.

Australia
I recommend this product
A beautiful surprise every month!
My boys and I love our CollectA subscription! The boys count down every month excited to see what they've been sent. Their imaginations and small world play has ran wild since we've started our subscription and the quality of the animals is just amazing.
03/09/2022
Daina C.

Australia
I recommend this product
Great presents every month!
Great! We had issues that were rectified and then some