Congratulations! You're now on the waitlist, please check your inbox for our confirmation email!
Little Readers Book Subscription - Age 3+
The Creative Toy Shop is super excited to offer our newest subscription box.
Reading is a life long skill that will assist with brain development, language acquisition, the teaching of life skills and so much more. 
The instilling of a love of reading in your little one will teach them to value books and storytelling. 
They have been specially curated and designed for both girls and boys between the ages of 3+
This Little Readers Subscription Box will include a variety of book, both fiction and non-fiction. 
Each box will include:
2 books

A list of activity ideas to extend on the theme and content of each book. 
If you own books from our store, please leave a note at checkout and we will endeavour not to duplicate 
Each book in this age range has an average value of;
$22-$27 each
Plus shipping at $9.95
All included in this box for just $44.90 a month and free shipping
There are only a limited number of boxes per month.
NB:- the images shown are only an example of what you could receive inside your box. Each month the products will change. 
This option is a rolling subscription your nominated card will be charged on the 20th of each month after the initial month, ready for shipment on the 25th.
The cut off for each months subscription is the 24th. Any order placed after that date will become part of the next month's shipment.
You can cancel at any point as there is no minimum term. Simply log into your account and cancel the subscription. 
Shipping Within Australia
Due to a high volume of orders, our current dispatch is 3 - 4 business days.
Shipping Update 27.08.21
We have been advised by Aramex that there are delays to orders shipping across Australia as a result of the statewide lockdowns affecting NSW and VIC. 
Please see details below:
Unprecedented demand for deliveries
More than 15 million Australians are in lockdown and the demand for deliveries has skyrocketed. The unprecedented demand, along with restrictions around the country impact every step of the delivery journey.
 
Delays of 1-2 days are being experienced in some areas particularly Melbourne, Central Coast, Wollongong, Orange, and Dubbo where we are operating under the strictest COVID lockdown restrictions.
The worst affected region is Sydney, with delays averaging 2-3 days delay in North Sydney, Northern Beaches, Eastern Suburbs and CBD. Central West, Western, South West, and Southern Suburbs are significantly impacted with delays of 4-5 days in some areas.
 
Our Courier Franchisees and teams at every depot in our network are doing their best to deliver parcels as quickly as possible while keeping themselves and your customers safe.  
Shipping Within Australia
Shipping prices are a flat rate of $9.95 this does not include bulky items. 
Express shipping is calculated at check out for orders up to 10kg. We cannot guarantee express shipping of items sent directly from our distributors We will contact you if express shipping is unavailable on your order.

Purchases over $250 will receive free standard postage within Australia, this does not include bulky items. 
If we anticipate any delays with your order The Creative Toy Shop will contact you immediately and likewise, if your order is urgent please let us know.
International Shipping
We now offer worldwide shipping! Certain countries are currently limited by weight to 2kg, we are working with our partner to increase this. Rates are calculated during check out, destination duties and taxes are the responsibility of the receiver.
International Subscription Box Shipping
Our international subscription boxes are only available for shipping to the following countries: Indonesia, Malaysia, New Zealand, Singapore, United Arab Emirates & United States. The price of shipping is included in the product cost.
Shop and Save
We wanted to find a way to say "thanks" for shopping with us and have decided to launch our own rewards program. 
Earn points every time your shop, when you register, on your birthday and following us on social media.
How it works
Create a store account to start earning points!
You will earn 1 point for every $1 you spend
Redeem 120 points to receive a $5AUD coupon
Redeem 400 points to receive a $20AUD coupon
Redeem 900 points to receive a $50AUD coupon

Redeem 1500 points to receive a $100AUD coupon
Check your account
Check your points and redeem rewards here.
Terms and Conditions 
Reward Points are not transferable.
Reward Points cannot be redeemed for cash.
Reward Points can only be redeemed off the product purchase price. This excludes taxes and shipping.
Reward Points from two separate accounts cannot be merged.


Customer Reviews
Write a Review
Ask a Question
Filter Reviews:
books
subscription
activities
child
quality
daughter
idea
thinking
Love
person
06/09/2021
Samantha M.

Australia
I recommend this product
The perfect gift
Such an amazing idea! A lovely gift for the hard to buy for person or child!
24/08/2021
Desiree C.

Australia
I recommend this product
Book Subscription
I'm a Daycare Educator my little kiddies just loved our first books we received and we have done all four activities off the Activity guide provided Thank you we love it
14/06/2021
Annette B.

Australia
I recommend this product
Book subscription
Great books and activities that my 3 year old nephew enjoyed
10/04/2021
Erin M.

Australia
I recommend this product
Lovely books
The book subscription has been a great way to expand our book collection.
29/01/2021
Brooke L.

Australia
I recommend this product
Little Readers Subscription 0-2 & 3+
My 2 & 4 year old boys were so excited to receive there book subscriptions at our front door this morning. This is the fourth month and we love the variety and quality of books. The activities are also fun & clever. Thank you to the Creative Toy Shop Team.
09/11/2020
Gemma F.

Australia
I recommend this product
Cute amd clever
We enjoyed the two books we received this month. The suggested activities were cute and clever. I'm looking forward to seeing what next month has to offer.
12/10/2020
Courtney B.

Australia
I recommend this product
Little Readers Books
We have the 3+ subscription but find the books a bit too advanced. Our child is interested but they're probably more suitable for 6yrs.
12/10/2020
Mia B.

Australia
I recommend this product
Great quality books
My son loved his new books this month. Such a great idea to have a book subscription.
19/09/2020
Katherine K.

Australia
I recommend this product
3+ Book subscription
These are beautiful books, my daughter is only 2, but I love that I am able to create a library of gorgeous books for her to be able to read and enjoy in the future, the Sea book and Homes is lovely, my daughter loves to pick a book and bring it to me to read. I enjoy looking at these books as much as my daughter and I can see they will be loved for years to come.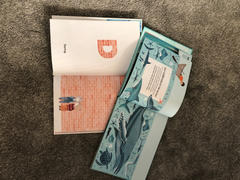 09/09/2020
Katie T.

Australia
I recommend this product
Little Readers book subscription Age 3+
Love receiving my monthly subscription of two wonderful book. Also the added activity guide is a bonus for ideas on how to extend the children's thinking.
22/08/2020
Winona F.

Australia
I recommend this product
Book subscription
We loved the quality of the two books we received and the activity that came with it. My son couldn't wait to set up the shaving cream experience, and played with it for a good hour which is unheard of for him!
28/07/2020
Kristen H.

Australia
I recommend this product
Loved the books we got!
My 3 year old was overjoyed to get a bundle of books in the mail. We can't wait to get our next bundle.
18/07/2020
Antigoni J.

Australia
I recommend this product
It's like Christmas every month!
I don't know who gets more excited, me or the kids, when the postie rings the doorbell with our subscription. We needed to invest in some more age appropriate books as we have so many baby books and this is definitely a subscription we will keep for a while.
01/07/2020
LOUISE O.

Australia
Excellent easy way to buy books
Great to receive regular parcels to give to my grand daughter, well chosen books which she loves, highly recommend a subscription.
16/06/2020
Lisa B.

Australia
Great books
We loved the books we received - a lovely surprise! Really looking forward to the next delivery...